Products
For 2018, I focused on getting cold tones for my hair (ash, blue, green hues) and so for 2019, I planned to go back to the other side of the color wheel starting with my go to color --- red. But, I didn't want it to be just red or like really wild red, cause then it'll be harder to remove again.

I wanted to go for a ginger-ish, brownish red which is usually found on drugstore/common box dyes that uses developpers --- and as I've said on my IG, I've only been using organic/keratin/vegan hair dyes since October 2018 because my hair is already severely damaged. Luckily, one of my favorite local everything hair shop -- @hue.nicorn -- launched their own line of bio-organic dyes!
I immediately got the shade EXPLOSIVE knowing it would be more vibrant on my blonde hair since as said on their IG, it's formulation can be used on unbleached hair. Anyhoo, the bio organic dye comes in a 200ml plastic container and its costs Php300. I only ordered one since I guessed the 200ml pack should be enough for my shoulder length hair.
Here's the state of my damaged hair before I did the coloring session. I had ashy blonde hair (maintained by Purple Keratin) and very dark roots.
Forgive my tutchang hair. HAHA!
When I use semi-permanent dyes that are creme/keratin based, I no longer do my usual routine of putting in VCO since the dyes usually have their own conditioning properties. I just make sure I have clean, damp or dry hair. Personally, i prefer doing it on dry hair --- I have no (scientific) explanation for this, but somehow it stains my hair better when applied on dry hair.
I wasn't able to take photos of my coloring session because I was so much in the zone during the application. The consistency of the dye was so perfect (as if I mixed it myself) it was so easy to put it on. It also had strong pigmentation which immediately gives your hair that instant color.
For semi permanent dyes --- those that don't have chemicals that could harm the hair, I let it stay on my hair for hours. In this case, I had it on my hair for about 3 hours and voila...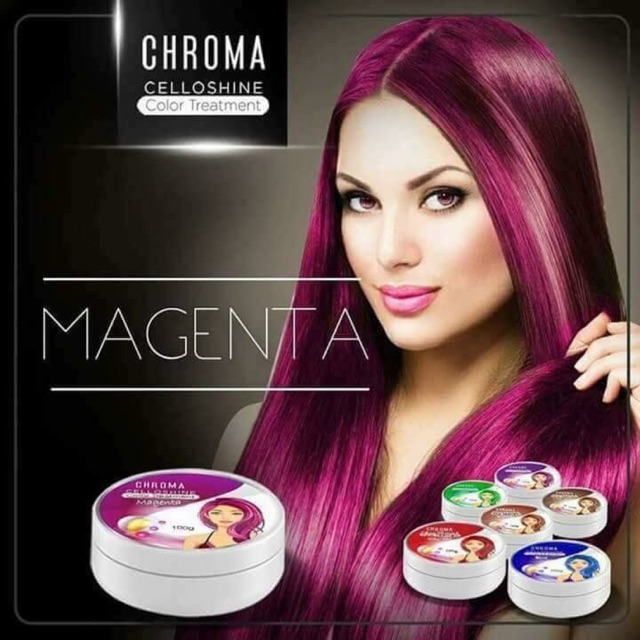 BUT, a day after I wasn't satisfied with it's one color look and wanted more depth. I had this Chroma Celloshine in the shade Magenta on stock --- which I was planning for another color, but thought this might be it.
It was a very bright & neon pink concoction which scared me --- pink not being my color and all. What I did was mix it with a lot of white colored keratin (or you can do this with any white conditioner) After coming up with the color consistency that did not scare me, I applied it again on dry hair. This time only concentrating on the roots.
Chroma Celloshine is also highly pigmented however, I am not a fan of the smell and since it's really just colored hair treatment, it doesn't stay on the hair long
But it did give my hair a certain depth for a few days :) One amazing thing about Chroma Celloshine also is that it's super cheap! If you want to try out loud colors, but not quite sure if you can wear it for a long time, I highly suggest using this. Lots of sellers have them on Shopee for Php65. All in all, I only spent Php365 for the hair color, include shipping and it's still under Php500!
What do you think of my new hair color? What color should I do next?
Comment and share away!
***
Products used: