DISCLAIMER: Do not judge. Haha!
I'm not much of a fan of watching pinoy movies in the big screen (
not that I don't support it, but I think most of you will agree that most good and quality pinoy movies are not the ones played in large cinemas
), but for this (and Daniel P) I made an exception. :P
First, let's explain the part where Daniel Padilla's name shows up. :) To put it bluntly, I like him. I like him because his face is the type that will just bring you back to highschool and feel nostalgic about everything. I think that's probably why he got the part (Kenji)... I mean apart from the fact that his face (and Kathryn's) is plastered on everywhere.
As I said earlier, I'm not into watching pinoy movies in the big screen. Not because I don't support our stuff, but because of poorly written storylines and the
"pwede na"
attitude, which produces really bad and disappointing materials (not all, but most) It's really sad because I know for a fact that there are a lot of talented film makers in the country.
ANYWAY, why the post? Before the release of the movie trailer, this picture of the cast made quite a noise in the social media community: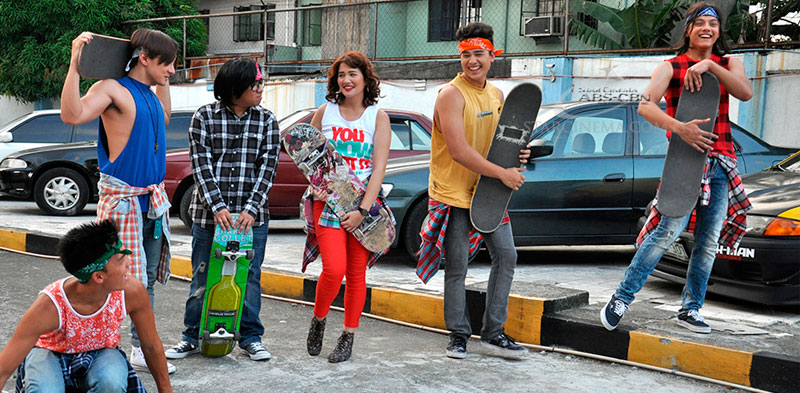 Source: http://www.rappler.com/entertainment/movies/63746-dating-gangster-movie-review
Well, this a and a few pictures of Daniel Padilla wearing a Nirvana - Nevermind & ACDC muscle tee. The first time an officemate showed me this picture, out of impulse i said, "
Ok. I just lost my respect for Daniel P
" ---- That comment wasn't harsh at all compared to the "She's Dating an Albularyo" + hate comments from Nirvana fans. I believe I even saw a news saying that these comments got into Daniel Padilla and that he decided to stay out of the country while the movie was showing
(Wrong move I would say, but wth. It's his life)
There was one comment though that's actually the reason for this. Someone said "
Sa stylist kayo magalit, mukang di nila niresearch kung ano talaga fashion nung panahon na yun
"
Makes sense? And so, I decided to read the book and watch the movie.
THE BOOK
I read the book first and having Daniel & Kathryn in mind as the lead characters made it a lot easier for me to feel and like the book.
It was a modern day Romeo & Juliet with a little bit of a twist (which I like) in the end. The taglish parts gets a little annoying to read, but all in all, I believe it's a good read (
I mean if you have nothing else to read
) The characters are all so messed up in their own high school rebellious way that it's acually realistic. The cutting classes, smoking, the drinking in bars underaged and sometimes done on a school day, the places used and the language they use when the characters talk to themselves or among themselves.
As I read along the pages, I realized that two things actually make it even more realistic and relatable to:
The part when things got serious between them - you know that time in highschool when you had someone as a boyfriend/girlfriend and when you try to look back, you can't event remeber how it all started?; and
The moving on part - which, in the real world, naturally ends up in the wonderful game of rebounding.
There are numerous kilig moments in the book. I actually find myself going through those pages again before I continued moving to the next page (i'm a closet sucker for kilig stuff). I also realized that the word "gangster" didn't actually mean a G. It was more of a word that Athena (Kathryn Bernardo's Character) used to describe someone as "
Gago
". Much in the same way when we use the word "
Jologs
" to describe something that we don't find nice or likeable, when in fact "
Jologs
" is actually the term used to call Jolina Magdangal's fans.
As it turns out also, Kenji (Daniel Padilla's role) looks more like this (<--) + long hair in the book, than the one we see in the movie trailer. He was described as someone who can wear a plain white shirt and still be as panty dropping as Aga Muhlach in his teens.
It's basic and the usual story of teen love messed up by incurable diseases. That's the best way I can put it. Fans of A Walk to Remember might say it kind of ended like a rip off. For me however, I liked the ending in a
(mentally) twisted
way. Haha! I can't say why, but read it and you'll get the picture. :)
My say
: If you're stressed out and want to relax, READ IT. You'll say it's
baduy
, but you'll actually find yourself in that blackhole of
baduyness
once you start reading it! :D
THE MOVIE

I will admit that after reading the book, I had a lot of comments (judgement) on the trailer. Although, I already knew that a movie adaptation will always be a bit different from the book because it's always been a challenge to movie makers to fit in hundreds/thousands of pages in an hour and a half.
Given the set of characters, I also know that they're gonna have to remove a lot of the kilig scenes on the movie because the Kathryn and Daniel love team is (very) wholesome. The kilig moments of the book is one of the few reasons why I actually finished it and given that most of them won't be on the movie makes it a bit frustrating, but nevertheless, I paid Php180 to watch it. :)
The movie turned out to be nice! There were changes, which were inevitable, but it turned out good. I believe even the writer of the book approves of it. They retained (most of) the important parts of the movie and made those complicated parts of the book easy to understand. I can't say much about the movie because 80% of it's box office success is more or less because of the people who played the leading roles, so you'd have to give that to Kathryn and Daniel. The other dudes who played the supporting roles were not spectacular, but they're ok.
In the book, it was the taglish that was annoying, here it was the fashion!
SOURCE: http://www.starmometer.com/wp-content/uploads/2014/06/look.jpg
I HATED
how they "jazzed up" the 90's fashion! I JUST HATE IT! I was a 90's kid and a confused hardcore-alternative-chicano-skater wasn't one of things I saw back then. I also hated that the the costume design didn't have consistency. You'll actually notice the characters who were so effortly styled to look 90's while the people walking around the campus dressed normal as if the setting was just this year. :(
The movie, storyline, script, transitions, editing and cinematography worked all together, but the costume design is just -_- They all looked so sleek and cool in the book and the wardrobe choice in the movie kinda made them look like clowns or something.
Disregarding the awful costume design, it's worth watching with your friends and family.
----------
Now that I've said that out loud, I think i'm ok now. Haha! :) AGAIN, don't judge. This is MY blog after all. :D