This week, the fashion world was devastated when news broke out that designer and brand founder, Kate Spade committed suicide on June 5. In an
article
that appeared on CNN (June 6), Kate Brosnahan Spade, the known designer hanged herself at her Manhattan apartment and was later found by her housekeeper along with a suicide note that mentioned her daughter and husband.
"Kate suffered from depression and anxiety for many years," Andy said. "She was actively seeking help and working closely with her doctors to treat her disease, one that takes far too many lives. We were in touch with her the night before and she sounded happy. There was no indication and no warning that she would do this," Andy continued." - Andy Spade, HollywoodLife.com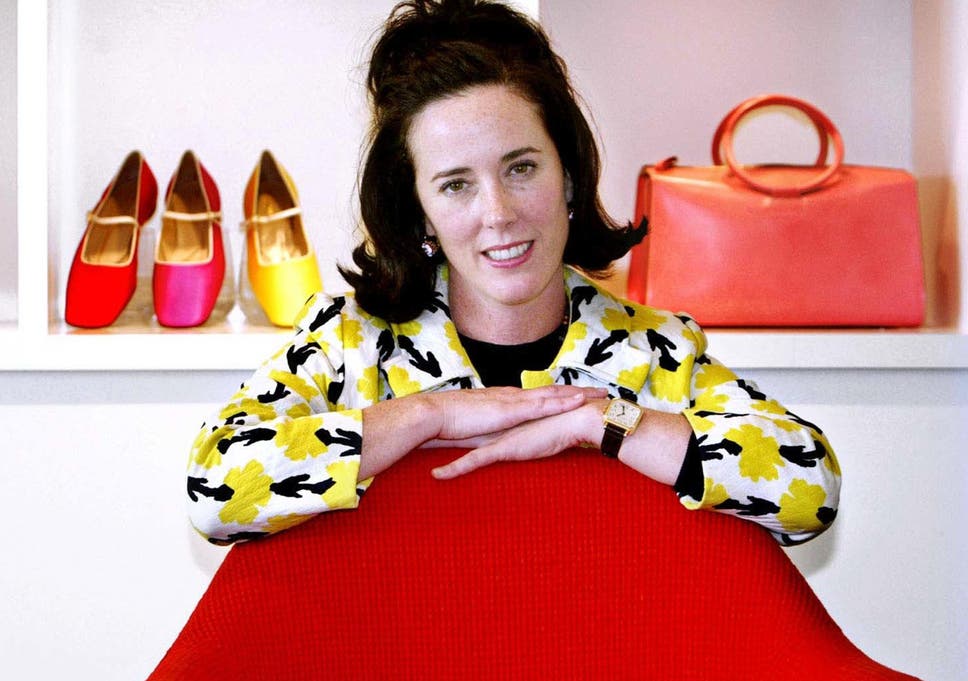 Again, we lost a wonderful soul to depression.[/caption] Although, Kate Spade has no longer been part of the brand for a decade (
Kate Spade is now owned by luxury brand, Coach
) celebrities and other prominent people were quick to share their sentiments about the designers' sudden demise.
Very saddened to hear about the passing of Kate Spade. Mental illness does not discriminate and can happen to anyone with any circumstances. I hope she has found peace ❤

— Lucy Hale (@lucyhale) June 5, 2018
Kate Spade was more than a designer. She had a quirky visual language that captivated Bat Mitzvah girls and artists alike. She was also a staple of NYC who spread good will. My heart breaks for her family. Thank you, Kate, from one of the millions you made feel beautiful.

— 💎 Lena Dunham 💎 (@lenadunham) June 5, 2018
Depression does not discriminate and comes without warning. RIP Kate Spade. Love to her family.

National Suicide Prevention Lifeline: 1-800-273-8255 — josh groban (@joshgroban) June 5, 2018
Kate. 😢 You never know what someone is going through. Please call

24/7 Suicide Hotline 1-800-273-8255 ❤ #katespade — Alyson Stoner (@AlysonStoner) June 5, 2018
Heartbroken to hear about Kate Spade. I hope she can be remembered for her legacy of creating a world of whimsy and making simple things feel special and beautiful. If you or a loved one are struggling with mental health, please know you don't have to do it alone | 1-800-273-8255

— nicolette mason (@nicolettemason) June 5, 2018
Fashion can be a very lonely and isolating industry. The way the business discards people and things is tragic. Spread love. Always.

— nicolette mason (@nicolettemason) June 5, 2018
My grandmother gave me my first Kate Spade bag when I was in college. I still have it. Holding Kate's family, friends and loved ones in my heart.

— Chelsea Clinton (@ChelseaClinton) June 5, 2018
Apart from celebrities and socialites, the world wide web in general also shared their thoughts on how to honor the late designer, but more than that, netizens shared their two cents on depression and suicide as a whole.
I think it'd be amazing if the company that bought Kate Spade honored her by including inspirational notes in all their products now like "you matter" or "you are beautiful" to bring awareness to depression and mental health

#KateSpade

— Sarah (@triSarahtops825) June 5, 2018
Check on all of your friends. The "strong" ones. The extroverted ones. The introverted ones. The ones who are openly struggling. The ones who hint at struggling but won't admit it. The ones who are actively working to heal. The ones who have healed. All of them.

#katespade

— Angela Brown ✨ (@AngelaIRL) June 6, 2018
The next time someone confides in you about their depression, don't try to convince them to think positive or look on the bright side of things. Instead say, "I hear you. believe you. What do you need from me right now?"

#KateSpade

— Felicia Martinez (@LaMeraFeli) June 6, 2018
#Suicide

is not a choice. It happens when pain exceeds resources for coping with pain. It's a symptom, not a decision. Very disappointed in much of the language used in coverage of

#KateSpade

's death.

— MH Media (@MHMediaCharter) June 6, 2018
Among all the messages shared by people around the world, one post struck and made an impact the most. On June 6, facebook user, Claudia Herrera shared a very on point message that not only honored the designer but also faced the facts that mental illness is just as serious as any illness we are aware of. As of writing, the post has been shared 230,836 times and we wish and hope it could be shared more.