Round Up
This week, the fashion world was devastated when news broke out that designer and brand founder, Kate Spade committed suicide on June 5. In an
article
that appeared on CNN (June 6), Kate Brosnahan Spade, the known designer hanged herself at her Manhattan apartment and was later found by her housekeeper along with a suicide note that mentioned her daughter and husband.
"Kate suffered from depression and anxiety for many years," Andy said. "She was actively seeking help and working closely with her doctors to treat her disease, one that takes far too many lives. We were in touch with her the night before and she sounded happy. There was no indication and no warning that she would do this," Andy continued." - Andy Spade, HollywoodLife.com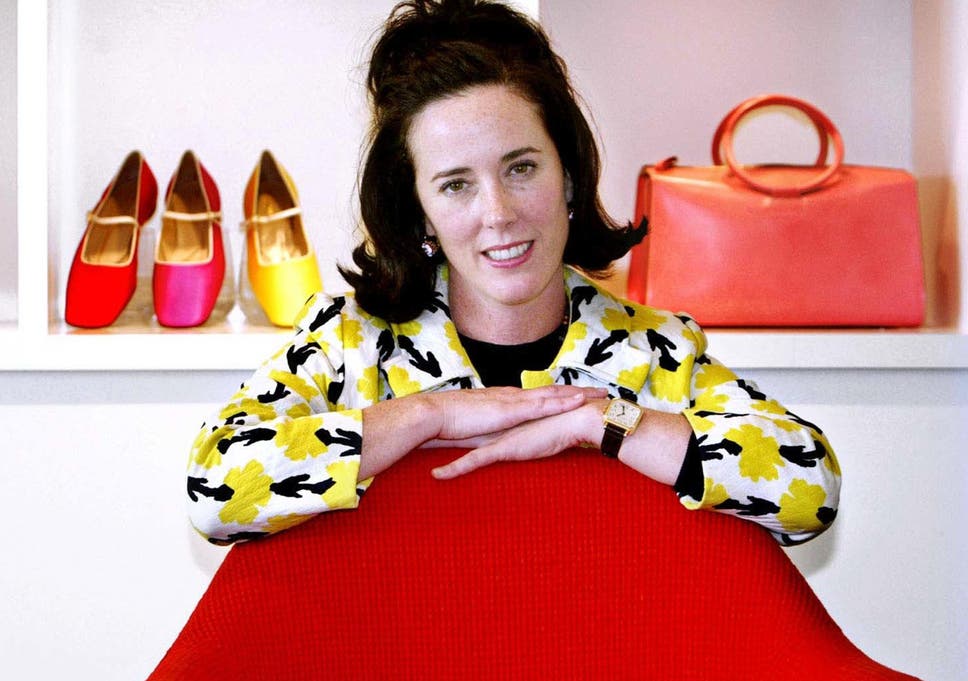 Again, we lost a wonderful soul to depression.[/caption] Although, Kate Spade has no longer been part of the brand for a decade (
Kate Spade is now owned by luxury brand, Coach
) celebrities and other prominent people were quick to share their sentiments about the designers' sudden demise.
Very saddened to hear about the passing of Kate Spade. Mental illness does not discriminate and can happen to anyone with any circumstances. I hope she has found peace ❤

— Lucy Hale (@lucyhale) June 5, 2018
Kate Spade was more than a designer. She had a quirky visual language that captivated Bat Mitzvah girls and artists alike. She was also a staple of NYC who spread good will. My heart breaks for her family. Thank you, Kate, from one of the millions you made feel beautiful.

— 💎 Lena Dunham 💎 (@lenadunham) June 5, 2018
Depression does not discriminate and comes without warning. RIP Kate Spade. Love to her family.

National Suicide Prevention Lifeline: 1-800-273-8255 — josh groban (@joshgroban) June 5, 2018
Kate. 😢 You never know what someone is going through. Please call

24/7 Suicide Hotline 1-800-273-8255 ❤ #katespade — Alyson Stoner (@AlysonStoner) June 5, 2018
Heartbroken to hear about Kate Spade. I hope she can be remembered for her legacy of creating a world of whimsy and making simple things feel special and beautiful. If you or a loved one are struggling with mental health, please know you don't have to do it alone | 1-800-273-8255

— nicolette mason (@nicolettemason) June 5, 2018
Fashion can be a very lonely and isolating industry. The way the business discards people and things is tragic. Spread love. Always.

— nicolette mason (@nicolettemason) June 5, 2018
My grandmother gave me my first Kate Spade bag when I was in college. I still have it. Holding Kate's family, friends and loved ones in my heart.

— Chelsea Clinton (@ChelseaClinton) June 5, 2018
Apart from celebrities and socialites, the world wide web in general also shared their thoughts on how to honor the late designer, but more than that, netizens shared their two cents on depression and suicide as a whole.
I think it'd be amazing if the company that bought Kate Spade honored her by including inspirational notes in all their products now like "you matter" or "you are beautiful" to bring awareness to depression and mental health

#KateSpade

— Sarah (@triSarahtops825) June 5, 2018
Check on all of your friends. The "strong" ones. The extroverted ones. The introverted ones. The ones who are openly struggling. The ones who hint at struggling but won't admit it. The ones who are actively working to heal. The ones who have healed. All of them.

#katespade

— Angela Brown ✨ (@AngelaIRL) June 6, 2018
The next time someone confides in you about their depression, don't try to convince them to think positive or look on the bright side of things. Instead say, "I hear you. believe you. What do you need from me right now?"

#KateSpade

— Felicia Martinez (@LaMeraFeli) June 6, 2018
#Suicide

is not a choice. It happens when pain exceeds resources for coping with pain. It's a symptom, not a decision. Very disappointed in much of the language used in coverage of

#KateSpade

's death.

— MH Media (@MHMediaCharter) June 6, 2018
Among all the messages shared by people around the world, one post struck and made an impact the most. On June 6, facebook user, Claudia Herrera shared a very on point message that not only honored the designer but also faced the facts that mental illness is just as serious as any illness we are aware of. As of writing, the post has been shared 230,836 times and we wish and hope it could be shared more.
Everybody (and we mean everybody) wanted to get their hands on some of that sweet, sweet 90s look when Bruno Mars and Cardi B lit up the stage for the 2018 Grammys. We don't blame you, though.
What makes the style crazy good isn't just because it's vibrant, colorful, and two of the best artists in the hip hop industry are wearing it, but because it pays homage to a classic 90s show: In Living Color.
Starring Jamie Foxx, Marlon Wayans, Jennifer Lopez, and Jim Carrey, Mars tweeted once before that it was one of his all-time favorite shows growing up—and who can blame him?
In fact, Mars loved the show so much that his ode to the show stretched beyond the fabric. Finesse was shot in the then-standard 4:3 ratio, instead of today's widely used 16:9 (widescreen). And if we haven't mentioned it yet, Cardi B also jumped in on the trend with her own look to compliment the performance:
Fortunately for us, much of the style during the 90s is making a huge comeback, and the supply & demand is holding. So if you're looking to start dripping in finesse, you've come to the right place! We've rounded up a few places where you can score your very own version of that living color fashion. And the best part? These shops won't break the bank.
Before we start going ham on the "add to cart" buttons on our trusty shops, let's go over the basics first:
For the gents, Bruno Mars:
And for the ladies, Cardi B:
Now that you're all set and have taken these pointers from the masters themselves, let's take a look at where we'll be stopping and shopping.
Striped shirts: 90s Kids PH
90s Kids PH sells a respectable line of good quality striped t-shirts, ringer t's, and boyfriend shirts. Prices range from

₱

150 to

₱

400 depending on the type of shirt, and they do shipping and meet-ups! To see more of their designs, prices, and sizing, check out their Instagram and Shopee page. They also have a sunnies and specs shop where you can get your own 90s colored lens glasses.
Printed long sleeves and crewnecks: Poly Toly Owie
PolyTolyOwie is jam-packed with 90s designs. These guys sell custom t-shirts, tie dyes, crewnecks, and hoodies that range from

₱

250 to

₱

800 depending on your design and type of shirt. You can check out this Instagram page for orders and this one for designs and sizes. They also have a Facebook page, Viber (+63 906 804 6954), and SMS (+639565748808) if you want to talk to them about shipping.
Gold chains and hoop earrings: MNL Gold
MNG Gold sells all sorts of gold jewelry, from basic chains to necklaces with intricate designs, as well as rings, bracelets, and earrings. Keep yourself loaded since this'll be the most expensive part in the 90s fashion as prices start around ₱

800

and can go well over ₱1,000. Follow their Instagram page and send them a DM or reach them through Viber (+63 915 662 5974) for inquiries and orders. They accept deposits at BDO, BPI, and can also do money remittance and cash on delivery. *Bling bling*
Caps and bucket hats: Reckless Few PH
Reckless Few PH has quite a few options you might want, so take a look at their Instagram page and see what hey have to offer. Price varies between products, but it's safe to say that it's around the

₱

300~

₱

350 range, so take a look around and see what matches your style! If you want to see the designs yourself, head on over to Empire Maginhawa to see the store, or message them on Viber/SMS (+63 917 112 7311) for orders or inquiries.
Crop tops: COPPER
Shopcopper is every girl's one stop shop. With new arrivals that come by almost weekly, this online store stocks up on a wide selection of clothes. Still based on the 90s fashion trend, you'll find retro pieces ranging from crop tops and denims to leather jackets and plaid shirts—and a lot more! For more ideas on their designs, head on over to their Instagram page, and then to their website to see the prices. Prices range from ₱400~₱1,300, so save up if you want to get the (really) good stuff!
Jackets, windbreakers, and button downs: Retrograde PH
Boys, you better line yourselves up for this one. Retrograde PH is the absolute place to be to get anything from the southern Chicago's fashion to the windy city of Miami's floral print designs. If you take a quick visit to their Instagram page, you'll see that their items range from button down short-sleeved shirts to authentic couture merch—but for a price. Floral print button downs start at ₱550 a piece, but if you want to score those sweet Prada Windbreakers and Tommy Hilfiger originals, you'll have to start bidding. Some even go up as far as ₱3,800 for a deal! So for this one, save up if you want to score those American dreams.
High socks: Sockhouse MNL
The name speaks for itself! Sockhouse MNL is the place to be for all things under your feet. They sell all different kinds of designs for socks, and we're sure that there's at least one pair here to fit your 90s needs. Be patient with their Instagram page, though, because it's private and Sockhouse takes a while to accept follow requests. However, if you're keen on checking out most of their designs for yourself, they have several physical stores around Quezon City and Pasay.
So what are you waiting for? It's time to go shopping!
*This [original] article was originally published in RoundUp.PH