Gong Yoo
If you read my
previous post
, then you would know that I was jobless (and sulking) for 3 months. Since I became a mom, me sulking consisted of late night binge watching while the baby is sound asleep, a bottle of water and countless bathroom breaks. Since I've watched A LOT of K-Dramas over the past 3 months, I thought it was worth a post and sharing it to other beings like me who as they said are
"nagpakain na sa sistema"
:)
So, let me share with you my K-Drama list which consists of both new and old shows. Enjoy!
BTW, I'm bad with reviews-- forgive me, so I wouldn't share much as I might give too much to those who haven't seen it. Hihi.
12. Big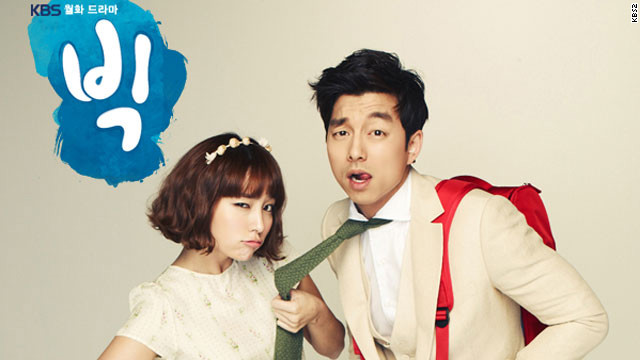 When I was thinking of sharing this list, I told myself I had to start with a Gong Yoo drama and so first on the list is GY's 2012 drama, Big. I wasn't big (pun intended :P) on the plot. For me it was kind of Freaky Friday meets Never Been Kissed. The whole show had a good build up, but somehow went down the drain towards the end. It's still a good watch though, specially if you're a GY fan because his charm just dominated the whole show. I mean come on, who wouldn't want a fun and reckless acting Gong Yoo? The lead female character played by Lee Min-Jung, is also very relatable, specially for those in their quarter life crisis stage because her problems and struggles are as real as they can get. Plus, watch out for a shirtless Gong Yoo during Episode 1. Hehe!
11. Cheese in the Trap
The only reason why I was interested in watching this show was because of my (current) ultimate Oppa, Nam Joo Hyuk. First few episodes didn't get me hooked, again I was really just watching it because of NJH. Somewhere in the middle though, you will grow to love the characters. I have never seen a K-Drama with that big of a cast (after The Heirs) and each one actually had a story. The main characters (Park Hae Jin, Kim Go Eun, Seo Kang-Joon and Lee Sung-Kyung) really had strong interesting characters and that ending... oh my, that ending.
10. The Bride of the Water God
Here's another one from my love, Nam Joo Hyuk. I believe this was his second lead role after the Weightlifting Fairy. The same K-drama which NamLee fans accused as the reason of their break up, which most fans believed was fake and was just done for the publicity and ratings of this show. Oha, updated ako diba? Anyway, it's kind of your typical Korean human-deity love story with a little bit of a twist. The story line did have draggy and "ugh" parts, but I kid you not, the times Nam Joo Hyuk was shown topless (even naked in the first episode) makes up for it. Haha! Plus, I love Krystal Jung in this show. It was the first time I've seen her with that persona and kinds of put her in a whole different light from her previous roles. Also, I am no fashion person, but the female lead, Shin Se-Kyung's wardrobe throughout the whole show is my life fashion peg. If only coats and blazers can be worn everyday in the Philippines...
9. Weightlifting Fairy: Kim Bok Joo
This drama was a breath of fresh air. It's a coming of age drama set in a university with student athletes. It gives a glimpse of how they overcome their struggles to becoming adults, experiencing first love, break ups, jealousy, priorities, dealing with the past, friends and family. It was also in this drama that I realized that Lee Sung Kyung was actually a great and dedicated actor --- she used to annoy me with her maldita roles. Her weightlifter role was a big jump from her usual antagonistic roles and she actually gained weight for the show --- which she lost immediately towards the end of the show. Talk about dedication and hard work. Nam Joo Hyuk's character, Joon Hyung is (almost) every college girl's dream --- a swimmer with a compassionate and sensitive character (almost too good to be true po) If you want something light and just for good vibes, this is for you. Be warned though, I finished this in one seating the first time ---- yes, the first time because I watched it 3x. Haha!
8. Legends of the Blue Sea
Most people watched this because of Lee Min Ho, I didn't. Believe it or not, I watched it because of Jun Ji-Hyun whom I first saw in Drama # 6. She played a mermaid who went all Ariel because she saw Lee Min Ho's character who was a con-artist. Turns out, they were actually lovers in their past life... and the story goes on. Jun Ji-Hyun who's already a seasoned actress in South Korea and is 35 years old! --- guys, 35 years old and she looks like that! Ano ba! ---- is one of my favorites. I like her when it's a serious scene and even more when it's a funny one. Out of all the Korean actresses I've seen, I love her humor and acting style the most. It's a modern day little mermaid story wrapped in Korean folklore. The plot and characters were great, although if you are a major K-Drama fan, you'd probably think that Jun Ji Hyun and Lee Min Ho in one drama is an oversell. Nevertheless, if you're in it for the kilig and feels, this will not disappoint.
7. Love in the Moonlight / Moonlight Drawn by Clouds
I was head over heels Song Joong Ki (Descendants of the Sun) and was endlessly searching for videos of him online. I came across his Domino's Pizza commercial with Park Bo Gum which brought me to watch this drama. This drama delivered. Not only with the plot, but also the characters, the set, the wardrobe, etc. It's the coming of age story of the Crown Prince played by Park Bo Gum who fell in love with a girl, played by Kim Yoo Jung who was pretending to be a man throughout the drama. Why? You have to watch it to find out. The story which involved friendship, love, family, betrayal and even politics was well written. It was serious and fun to watch all at the same time, plus Park Bo Gum and Kim Yoo Jung together is just so cute and lovely to look at.
6. My Love from Another Star
I believe this was released about 4-5 years ago here in the Philippines, but I only got to watch it now and it is one of my absolute favorites. Jun Ji-Hyun plays a famous actress who by the powers of destiny moved in next door to the character played by Kim Soo Hyun. Kim Soo Hyun's character was an alien who was living on earth since the Joseon Era. The story had so much twists and kilig feels that will make you finish the whole drama in a day or two. Both Soo Hyun and Ji-Hyun were amazing actors, together they made the show magical.
PS. Do not watch it right next to Legends of the Blue Sea. You'll know why when you see both dramas.
PPS.
A proof the that Kim Soo Hyun is a really amazing actor, watch his movie,
Secretly, Greatly
. You won't regret it.
5. Coffee Prince
I am currently re-watching this NOW and it's the 6th time I've seen it. Need I say more? Haha! This is a classic. Released in 2007 with an amazing cast and great plot. It's not your typical rich boy - poor girl story as there is are more twist in the plot than you'd expect. It's fresh, fun and very addictive. Again, the whole show was dominated with Gong Yoo's awesomeness, but all the characters made had their own distinct personalities which you'll grow to love.
4. The Heirs
There are probably more high school themed dramas with a better plot, but the reason why this is in my list is because of the cast. It had such a big cast that you'd think it was trying to convey a really complex story, but no. It was just a straight up rich girl tangled in the world of rich boys, but still gives you the feels nevertheless. You might find the first few episodes slow paced, but it'll build up eventually. Aside from my two favorite girls, Kim Ji Won (Descendants of the Sun) and Krystal Jung (Bride of the Water God) you gotta watch out for Kim Woo Bin. He has such strong character that he sometimes steals the spotlight from Lee Min Ho. The Heirs is a perfect introductory drama to the world of Korean Dramas.
3. Boys Over Flowers
Who doesn't love the drama that brought Lee Min Ho to the hearts of Filipinas? I could no longer count the times I've watched this drama. I actually downloaded the whole thing and had it saved in my external drive for emergency purposes --- and by emergency I mean lazy days hehe! I originally watched this because it was the Korean version of the sensational Taiwanese drama, Meteor Garden, but eventually I loved this more because it was Meteor Garden 1 and 2 rolled into one plus the ultimate and original Oppa of my life, Kim Bum was playing So Ji-Yung, the playboy. I watched the last 2 episodes more than the rest of the episodes since Kim Bum and Kim So Eun (lead female's bestfriend) had more air time in those. If you're an old millennial like me, who grew up watching Dao Ming Xi, San Xai and the rest of F4, I'm sure you loved this drama just as much. And, I forgot to mention, the lead female character, Jan Di (Ku Hye Sun) had the most amazing wardrobe of hoodies and shoes!
Trivia: This show was so controversial when it was released in 2009 because the main cast (F4 and Jan Di) all had minor car accidents before and during filming the series (My oppa, Kim Bum actually had 2 car accidents!) Also, one of the characters that played Sunny (a mean girl that bullies Jan Di) Jang Ja Yeon, committed suicide during the filming of the series due to depression. --- Sad, I know. SO kids, that is why we don't underestimate and make fun of depression, OK?
2. Goblin
I don't even know if I have the right words to describe how sensational and great this drama was. Not only because the goblin was played by the ultimate pamnbansang (and parang hindi tumatanda) Oppa, Gong Yoo, but also because the rest of the cast was amazing. Top it with a well written story line, amazing effects and great cinematography. Gong Yoo being a goblin erases all your childhood vision of a green version of Freddie Kruger then add up a grim reaper with Lee Dong Wook's face. My goodness. I also loved the 2 female characters played by Kim Go Eun (Ji Eun Tak) and Yoo In Na (Sunny). Eun Tak annoyed me at first, but you'll love her after the first episode pa lang. I loved Sunny's character right off the bat. Their pairings were amazing and it will give you that pa-cute level of kilig when you're older. You know that kilig feeling you're trying to suppress because you think you're too old for it? That's it. WATCH THIS. You will not regret it.
1. Descendants of the Sun
I have seen this more than 10x. I swear. I was so hooked that I actually felt like I was in the series, no joke. I wanted to be friends with Song Hye Kyo's character! Play episode 1 and I assure you that you will get hooked immediately. I especially loved the scenes that focused on Song Jong Ki --- watch out for the helicopter, emergency room and Urk arrival scenes and you'll see what I mean. AND GUYS HELLO, who wouldn't fall for a romantic series where the two main characters actually fell in love in real life and ARE GETTING MARRIED --- this weekend. DIBA???
***
There goes my Top 12! If you read through this, I'm sure
kinain ka na din ng sistema
like me, so comment down if you have other recommendations! I'm on the look out for the next show to binge
watch!